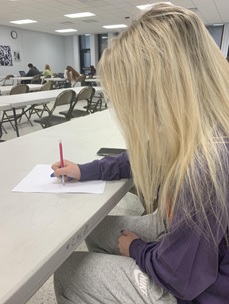 Want a 3, study with me! 
Earn a 2, don't be so blue!  
Advanced Placement students often find themselves under extreme amounts of stress all throughout the year in preparation for one single test, the AP exam. 
Students can easily find themselves becoming overwhelmed if they do not find a healthy and intelligent balance between study time and personal life.
The eagerly anticipated "AP Exam" tends to take place in May, and the upcoming months to the exam are heavily anxiety ridden. 
Many students struggle with thinking of new and beneficial ways of studying, but one great resource is their peers. This helps students find new ideas and helps to balance their workload including study time.
AP World student Mabel DeRusha explained, "I watch Youtube videos and reread my notes. One good channel is Alex Academy."
Other students could benefit from this advice as many might have not known Youtube videos are a valuable resource. 
AP Chem student, Catherine Chu provided another helpful Youtube channel for others to utilize. "Bozeman Science is a great educator to turn to with any help needed in my AP course," said Chu.
"I reread, rewrite, and highlight my notes. I also read over my textbook and previous assignments," said freshman AP Human Geography student Sarah Mooney.  
This could be beneficial advice as many students explain how they have "nothing to study."
English teacher, Sara Kimberlin explained the way she encourages her students to study. "Group discussions are always helpful if everyone contributes," she said. "It is also important to always review annotations before any major assignment."
Adviser's note: Since this story was initially reported, there have been changes to how students have been learning and how they will be taking the AP tests in the months to come. Please check with your classes and teachers for the most up to date information.
Story by Hannah Niver, Emma Norris, Garrett Rider, Rachel Wagner