2017-2018 Staff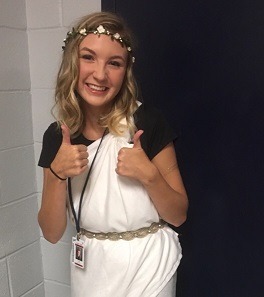 Student Life Editor
Morgan Donohue is a senior at Chapin High School. Along with being a co-editor in chief of her journalism class, she participates in the Teacher Cadet course. She hopes to pursue a career in secondary education English and minor...
See Morgan Donohue's profile
Editor
Sara Dietrich is a Senior at Chapin High and is coeditor and chief. She runs CSPN's social platforms including Instagram, Twitter, & YouTube. She also writes about school activities and news. She runs Chapin Cross Country...
See Sara Dietrich's profile
Student Life Co-Editor and Writer
Shelby Norris is a senior at Chapin High. Shelby writes stories that include: student features, athletics, and human interest. Shelby enjoys playing sports, such as volleyball and soccer, and being with her friends and family....
See Shelby Norris's profile
Writer
Kiley Hengeveld is a senior at Chapin High School. She enjoys hanging with her friends. She writes about community and student life.
See Kiley Hengeveld's profile
Sports Writer
Luke Layton is a Senior at Chapin High School. He writes mostly sports stories, and enjoys interviewing. Luke plays varsity tennis for Chapin.
See Luke Layton's profile