Chapin Choir Sings Their Way to All State Auditions
With the winter season fast approaching, many extracurricular events at Chapin High are picking up speed, especially within the Fine Arts Department. On Monday, November 4, a select few students from the Chapin Choir Department traveled to West Columbia to audition for the South Carolina All-State Choir. Sophomores through seniors within the Chapin Choir Department were eligible to audition.
The audition is comprised of two parts: sight-reading and singing a pre-selected song in a quintet.
This was sophomore Lydia Stacey's first time auditioning for All-State. Stacey said she would audition again in the future because "it was a very easy process and was very relaxing." Stacey also added that she has become more confident in her herself, as well as her singing ability.
Among the new students auditioning were Laney Hendrix, junior. Like Stacey, Hendrix would also audition again in the future.
In addition to students who auditioned for the first time, students who have previously undergone auditions tried out again this year. Olivia Calhoun, senior, has auditioned for the past two years and was accepted into the 2018-2019 South Carolina All-State Choir.
"Students practiced for two and a half months; we began rehearsing when school started in August and auditioned at the beginning of November," said Nicholas Shumate, Chapin High School's choir director. "During the audition, students have to sing in a quintet and sightread. Those two scores are put together to determine whether they can get in," Shumate continues. "Ten students from our school made it in, which is the most that have been accepted from our school in about 15 years."
The students who were accepted into the 2019-2020 South Carolina All-State Choir are as follows: Ryan Aycock, Alyssa Bucciarelli, Sean Cannon, Corey Corley, Laina Jackson, Bryce Manley, Glen Mason, Drew Meetze, Brock Seal, and Lydia Stacey. Additionally, Drew Meetze was accepted into the American Choral Directors Association Southern Division Honor Choir, which will be held March 11-14, 2020 in Mobile, Alabama; 1200 students auditioned for the Southern Division.
Journalism 1 students that contributed to this report were: Bailey Lutz, Jenna Shealy, Julia Cromer, and Maria McClive.
About the Writer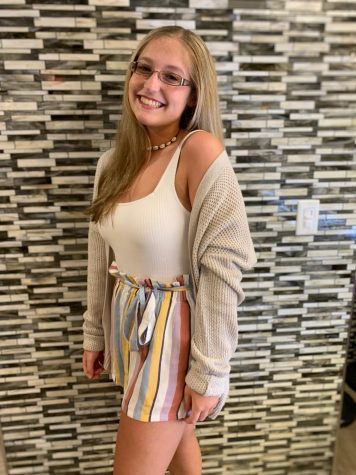 Madison Thompson, Reporter
Madison Thompson is a senior at Chapin High School, and is a Reporter for CSPN Eagles. She enjoys photography and competing in pageants. Additionally,...