When Duty Calls
Mrs. Jerusha Spain is a US History teacher at Chapin High, but that's not all she does.
Mrs. Spain is also a Captain with the South Carolina National Guard and she could get called in to help with natural disasters. This happened most recently when Mrs.Spain was activated by Governor Henry McMaster and the South Carolina National Guard to assist residents feeling the flooding impacts of Hurricane Florence.
The governor will declare a state of emergency and will activate the national guard to help deliver food, supplies, to use specific equipment like helicopters and activities such as search and rescue.
"It was hard to leave my students while called to active duty, but I knew they were in good hands," said Mrs. Spain when asked about what it was like to leave her job when called up for the guard.  "I know what I am doing on active duty is important to the citizens of South Carolina and try to focus on the needs of the people of the state who are experiencing disastrous times."
One of Mrs. Spain's Company's main mission during the hurricane involved the transportation of supplies throughout the state including the transportation of sandbags to the Highway 501 bridge in Conway, SC.
Mrs. Spain was impacted personally by this by "seeing first hand the devastation of the state." She said, "during these disasters, I am always reminded how blessed I am and not to take anything for granted."
Students of Mrs. Spain think that what she is doing is amazing and they are very thankful for her.  "I think it's awesome and I think how she handles it is amazing,"  said Sidney Lindler, a junior. "She's an amazing teacher and it's incredible that she can do both so well."
Leave a Comment
About the Writer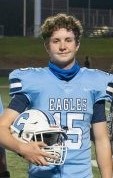 Brennan Ramsey, Editor in Chief
Brennan is in the 12th grade at Chapin High School, He plays football and enjoys hanging out with his friends. He is the editor for CSPNEagles.com.