TikTok Chicken is "Finger Lickin' Good"
TikTok. The app that got me off of my phone, and got me in the kitchen.
The app has been known for lip syncing and funny dances, and even better known for its recent controversies involving former President Trump wanting to ban the app in the U.S. However, there are many sides to TikTok. There is the political, relationship/ romantic, pet and animal, and there is the food/cooking.
The food sector of TikTok, in my opinion is the most underrated side of TikTok. The food sector of TikTok can go from recipes, to people such as Gordon Ramsay reacting to other people's recipes. He will either respond in a surprising manner, or display his disgust for how some people have cooked their food.  
The most helpful part are the recipes. There are many people who display their cooking skills in about 30 seconds. They showcase their recipes and how their food turns out.
Personally, 9 times out of 10, it makes me want to get off of my phone and start cooking. 
I have tried out a TikTok recipe multiple times, but the most notable recipe is a spicy fried chicken sandwich.  I watched the video and I became hungrier and hungrier, so I got off my phone and started cooking. 
These are the steps from TikTok to create what I call the Popeyes 2.0 Special.
First you would take your chicken breast, dry it out, and then slice it from one side to the other so that you have 2 relatively thick chicken breasts. 

Then, in a bowl, you place in the chicken and season it with Tabasco, cayenne, salt, pepper, and garlic powder. 

You will mix that thoroughly. 

The flour mix included flour, cornstarch, salt, pepper, garlic powder,  cayenne pepper, and paprika. 

You will then crack two eggs into a bowl, pour in a little bit of butter milk, and mix it. You will use that to pour over the chicken and mix it well into the chicken. 

You will then coat the chicken very well in the flour mix and place it in a pan with standing hot olive oil so that when the chicken goes in you hear it sizzling. 

You want to cook the chicken on medium heat for about 5 to 5 ½ minutes on each side. 

While the chicken is cooking, create the spicy mayo. Put as much mayo as you would like for the sandwich in the bowl, you will season it with paprika, cayenne, and Tabasco hot sauce. 

You will now want to toast a bun. I personally used a burger bun, you will then spread the spicy mayo when it is completely toasted. On the bottom bun, place some pickles down on the bun and then place your chicken right on top. 

You will then enjoy a delicious sandwich, with compliments from TikTok.
Leave a Comment
About the Writer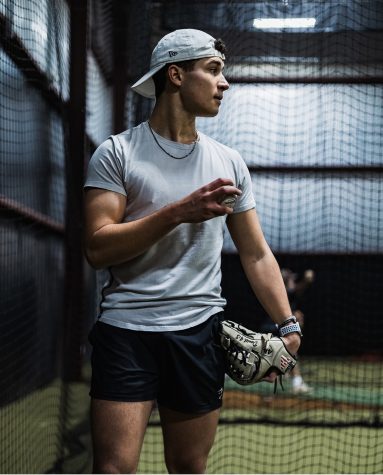 Danny Prebeck, Co-editor in chief
Danny Prebeck is currently a Senior at Chapin High school.
I have been in journalism for 3 years and am the CSPN Journalism Co-editor in chief. While...