Ross' Rise to Success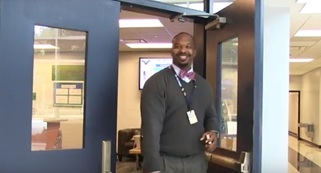 Chapin High School Principal, Dr. Akil Ross, recently received the Secondary Principal of the Year. This award is given out to the best principal in the state by South Carolina Association of School Administration. Dr. Ross' career has been molded by his experiences his childhood, on the football field, and in the classroom.
Dr. Ross' life began in Northeast Washington D.C. where he would live throughout high school, attending School Without Walls High School. As a kid growing up in D.C., Dr. Ross' childhood was in a city full of drugs, crime, and gangs. Children  in D.C. struggled to get an education with so many negative distractions. Most people had to make a choice between passing the test of the streets, or passing the tests in the schools.
"It is not a cliche, it is tough for kids to make it out of those sorts of conditions. We didn't have Chapin," said Dr. Ross, "So everyday on your walk from your house to your school, you had to pass a test… and if you were three things you could pass that test. If you were a gangster they'd leave you alone, if you were an athlete they'd leave you alone, and if you could rap they'd leave you alone."
Dr. Ross persevered with his school work and football, and didn't succumb to the many temptations that D.C. offered. In 1998, Dr. Ross graduated from School Without Walls High School. He was fortunate to have completed his high school education in four years. A report by DC.gov showed that even as recently as 2014 about 42 percent of high school students in D.C. do not obtain their high school diploma within four years.
"How many times are you going to pass that test? How many times are you gonna say 'look I don't do that stuff'? Everyday you walk to school? One day you might succumb, one day you might get tired, one day you might not want to fight or run," said Dr. Ross about the challenges faced by children growing up in D.C.
Growing up Dr. Ross had to grow up around "a lot of people who were trying to survive" in the street of D.C. However some were not so lucky to survive, one of those people was Dr. Ross' best friend, who was killed at the age of 12 just before sixth grade.
"I will never forget it, I'll never forget the night that it happened" said Dr. Ross when talking about the sudden death of his good friend, whom he lost at such a young age.
After this tragic incident, Dr. Ross would begin to play football at the recreation center near his home. Thus allowing Dr. Ross to uncover a new way to cope with life in the harsh street in D.C.
"When I was 12, I went down to the recreation center and I saw a kid that was in [football] equipment, and to me he looked like a knight" said Dr. Ross when reminiscing about what prompted his interest in football, "I remember signing up for my first year down at the recreation center, and I was horrible. I was really not that good, but I had a coach that invested in growth. He did not care how good you were, but rather how much work you were putting in."
Although Dr. Ross began as a less-than-stellar player, he began to excel because of the work he was putting in to get better. By his senior year he was the "5th ranked linebacker in the ACC recruiting class" and the "15th ranked linebacker in the region." He was being recruited by Notre Dame, Florida, Maryland, Navy and East Carolina among others prestigious schools.
Even with all this national attention, Dr. Ross really wanted to attend Duke University in Durham, N.C. His attachment to Duke stemmed from a Final Four basketball bet that Dr. Ross won in high school over a Blue Devil sweatshirt. After his friend got a recruitment card from Duke, Dr. Ross decided to call the Blue Devil Athletic Department to plead his case for an offer. Dr. Ross traveled to Durham for a meeting with head coach, Fred Goldsmith, and after watching Dr. Ross' highlights, Duke offered him on the spot.
"I recruited Duke. Duke didn't recruit me," said Dr. Ross.
After becoming a student at the 5th ranked university in America, Duke University, Dr. Ross quickly realized the academic challenges that he would face. He found that simply completing the work wasn't enough to succeed at such a challenging university. Originally, Dr. Ross' had the ambitious goal of becoming an engineer, but ended up changing his major five times. Dr. Ross found his calling in political science, with a professor that changed his life. His professor taught about how to influence groups of people and the science of people.
"The standard was higher, and I was looking for minimums and not challenging myself to give the maximum… We set the bar very high. You meet it, or you go home," said Dr. Ross.   
In Dr. Ross' final years at Duke, he suffered from a career-ending shoulder injury. "The game where I got my values from, where I felt like I was achieving where I felt a sense of worth and greatness, that was gone," said Dr. Ross. With football being taken away from him, Dr. Ross turned to education to find a sense of worth. Being able to understand the inability to balance sports and school, he started a program mentoring local high school athletes who struggled in the classroom. Dr. Ross' life was proof that talented athletes could have educational success, and his motivation to help others resulted in him being awarded a $16,000 scholarship for graduate school.
Dr. Ross graduated from Duke University in 2002, becoming the first in his family to graduate from college. He taught for one year, and then enrolled at the University of South Carolina to become an administrator. After three years of teaching, Dr. Ross finished his Masters degree in administration in 2004 and was hired at Chapin High School as the assistant principal in 2005. He continued his academic journey and attended South Carolina State University to obtain his Educational Specialist degree, where he finished his doctorate in curriculum and instruction in 2014.
With the knowledge from his Political Science professor and his desire to move the student body in one direction, Dr. Ross started the Chapin High School "One Heartbeat" motto. His creation unified the entire school and brought everyone together as a one body.
"The ability of our school when we're all together to act as one heartbeat, that's the epitome of my happiness here," says Dr. Ross about Chapin's "One Heartbeat" motto. "A lot of schools can't build that sense of community."
Even though Dr. Ross is the winner of the Secondary Principle of the Year award, he sees this as a school accomplishment rather than a personal achievement. "To me, I look at it as a testament to I have a great teachers and staff and coaches. I have amazing students and I have a supportive community" said Dr. Ross about the award.
Chapin High School is truly honored and privileged to have such an incredible principal leading their staff and students.
Leave a Comment