CHS Loves Dr. Suess!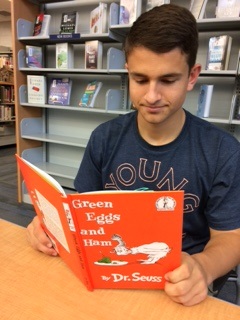 Hang on for a minute...we're trying to find some more stories you might like.
March 2nd is the National Education Association's "Read Across America Day" which happens every year to celebrate Dr. Suess's birthday and to encourage literacy.
Chapin High School students and staff recognize Suess's work, and they reminisce on some of their favorite childhood story books written by him.
Madeline Ballard, junior, said, "I like One Fish, Two Fish, Red fish, Blue Fish because it's about fish and fish are cute. Dr. Suess inspires me because he has the ability to rhyme perfectly."
Beverly Whitesides, junior, said, "I like Green Eggs and Ham because I really love ham."
Officer Cato said, "Green Eggs and Ham and the Grinch are my favorite because Green Eggs and Ham is the main one I remember, and How the Grinch Stole Christmas is one of my very favorite Christmas movies. Those were some of the first books that I ever really read."
Mrs. Loy, school librarian, said, "Cat in the Hat is my favorite because I like how the cat gets the kids to do different fun things, and they have a great day even though it's just 'blah' outside."
Katie Dzoba, senior, said, "I like Green Eggs and Ham because I hate picky eaters. Dr. Suess inspires me because he didn't accept defeat."
Jessica Cole, senior, said, "Go, Dog, GO! is my favorite book because of the childhood nostalgia that comes with reading it. Dr. Suess inspires me to pursue my dreams."
Justin Feagin, junior, said, "I love  How the Grinch stole Christmas because it reminds me of Christmas, and I love Christmas. The Grinch inspires me to be kind to others, because at the end of the book his heart grew three times in size."
Josh Corning, junior, said, "Green Eggs and Ham is my favorite because it has lots of rhyming and tells a great tale of companionship between two polarizing figures. Dr. Suess inspires me with his childlike excitement."
Katie Miller, senior, said, "Go, Dog, GO! is my favorite because I read it a lot to the kids I babysit. I like Dr. Suess because he loves kids and I love kids!"
Angelica Walker, senior, said, "One Fish, Two Fish, Red Fish, Blue Fish is my favorite because it taught me how to count to two and taught me the colors red and blue. Dr. Suess is such a good rhymer and I can tell he has a kind soul because of the way that he wrote these children's books."
Mrs. Adams, school librarian, said, "Oh the Places You'll Go is my favorite because it is a very comforting book during times of transition. All of Dr. Suess's books are so fun to read to kids."
Miss Land, a volunteer librarian, said, "I love Green Eggs and Ham because I was a super picky eater as a kid and my mom always tried to make me eat crazy stuff, so I had a connection to the character. I love Dr. Suess because he reminds us to be like a kid every day."