Petition In the Halls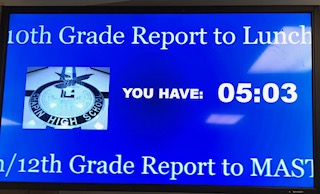 Hang on for a minute...we're trying to find some more stories you might like.
With the start of the new year comes a new principal that plans to enforce the rules. This includes the fact that students can no longer walk in the halls during power hour. All academic halls have been closed during the enrichment periods and students now only have six minutes during the switch between the enrichments to move around the school.
Ali Frick, the creator of the petition (which has over 500 signatures) says, "I started the petition because a lot of the student body feels that it is unfair for all of us to have to walk outside in the heat to get from one end of the school to another."
Before, the students would be able to move through the halls during their enrichment or lunch, but now they are all confined to their respective areas. It has gotten to the point that even when people are going to and from the CATE buses, they have to walk outside and all the way around the school to get to the arena lobby, and other parts of the school. In the wake of this new enforcement, students have created a petition and are signing it as a way to show that they don't like this enforcement.
"I think that the new enforcement is unnecessary and oppressive." says junior Eleanor Lawton, who has spent all three years at Chapin. 
"One of my priorities is to protect education and that includes enrichment," said Mr. Ames on why he is enforcing the policy. "And until I am comfortable with the student body, I want to keep it strict," he said.
But there shouldn't be any hope lost as Mr. Ames also says that he is willing to look over the petition and meet with the students. "I'll take that [the petition] seriously, I believe that we have a role in this school and I wouldn't take a serious issue that the students care about lightly," said Mr. Ames. "I will bring it to my leadership and discusses in an attempt to compromise with the students."