The Predicament of Applying for Health Science 3 and 4 at Chapin High School
        Health Science is a program held at Chapin High School for students who hope to practice in the medical field one day. Students learn medical terminology, CPR, the anatomy of the human body and systems and how they work, cultural diversity, and much more.
        There are two different classes: Health 1 and Health 2, which can only be taken by juniors (or seniors) and Health 3 and Health 4, which can only be taken by seniors, and there are two different programs: CNA (Certified Nursing Assistant), taught by Mrs. Kimberly Echerer where students can be certified to work as a nursing assistant in South Carolina. However, students must pass a certification test at the end of the year in order to get their CNA certificate. Health 4 is an Internship Class, taught by Mrs. Cheryl Whitfield. In this class  students can go out into medical practices like hospitals or dental offices to job shadow a professional who works the specific career the student is most interested in.
        While Health Science seems like a good class to go in, there is a catch.  Students must apply to get into Health 3 and Health 4. And there is a limit of 16 students per class, so the rest have to be cut and put on a waiting list in case anyone decides to drop out.  The waiting list is due to the fact that Chapin High only has 2 teachers for the job and those teachers must be registered nurses.
        Before students can even apply for Health 3 and Health 4, they must have at least an 80 in the class. However, grades are not the only thing that determine whether a student gets into Health 3 and Health 4.  To decide which students get in Health 3 and Health 4, Mrs. Echerer said, "we look at the South Carolina high school graduate profile and work ethics of the student. We also look to see if the student has integrity and how well they keep up with missed work. There are more students interested in the program than spots there are to offer. The program is growing rapidly and we are trying to change the process because of student interest," said Mrs. Echerer.
       Health Science does more than just apply more medical knowledge to the student. Mrs Whitfield, the internship  teacher of the job shadowing aspects of Health 3 and Health 4 said, "Health 3 and 4 really helps students in the real world by allowing them to get out and actually see health care in the working, and getting to job shadow health care professionals enlightens the student even more in both knowledge and social skills.  This program provides a first care experience overall."
       Olivia Calhoun, a student in Health 1 and 2, "applied for the internship in (Health) 3 and 4 so I can get an idea of what I really want to do in the healthcare field." Calhoun went on to say, "I do believe in cutting people though, because if they don't do their work and have bad grades and behavior, then they shouldn't be allowed to have the responsibility to go out and job shadow or take CNA because they aren't responsible."
      Graycen Bozard, also a student in Health 1 and 2, explains "I applied for CNA so I can start working straight out of high school. However, I do not agree with cutting students from the (Health) 3 and 4 classes because I do not think it is morally right."
     Chapin High  is working on expanding the Health Science 3 and 4 programs so more students have the opportunity to expand their medical knowledge and experience. However, it can be hard to do so because the teacher must be a certified nurse and finding a qualified teachers are scarce.
     Chapin is expanding so perhaps one day it will have the blessing of another health science teacher to help fulfill students needs and passions to become what they want to be.  
Health Science Students were Recently Surprised with their Lab Coats. For that story, Click Here.
About the Writer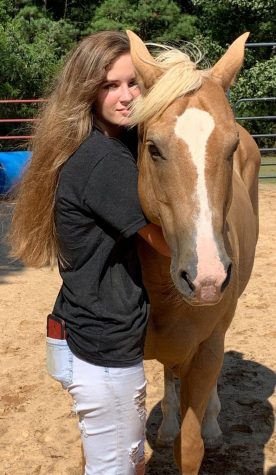 Laura Layton, Co-Editor-in-Chief
Laura Layton is a senior at Chapin High School and is Co-Editor-in-Chief for CSPN Eagles. She enjoys riding horses everyday of the week after school, and...