Remembering Chaney Forever In Our Hearts
God-loving, authentic, faithful, always happy, and real are just a few words to describe Chaney Partrich.
It has been just a little over a year since the tragic passing of  Chaney, a Chapin alum who was dedicated to faith, family, and friends.
"She got happiness from making other people happy," said her father Paul Partrich. "Chaney always loved getting her picture taken because she loved to smile and always had the brightest smile. Chaney loved school, loved the teachers, being able to see her friends, and just enjoyed life one day at a time."
Patrich is a history teacher at Chapin High. His children, oldest son Lawrence, youngest daughter Virginia and middle child Chaney, have all attended Chapin High.
"She attended every school event she could, dressing up for every spirit day, and just wanting to be a student, because she loved school and being involved that was a big part of her personality. She embodied everything you would want in a high school student," said Paul Partrich.
Becoming "The Fast Girl in the Yellow Cleats"
Chaney's senior year of high school, she was voted all-state senior year. She was known across the state as "the fast girl in the yellow cleats." Chaney was known around the state by coaches and teams as "the fast girl in the yellow cleats."
But before she was known as the fast girl in the yellow cleats, Chaney had to make the best out of a bad situation after she suffered a torn ACL during the first scrimmage during her junior year. Though she could not play on the field, she was voted unanimously team captain as a junior.  After her ACL injury, she became Coach Chaney, being there for the team–every practice, and attending the games supporting the team.
"After her injury, she was getting ready to play again and I wanted to take her and get new cleats. So we went to Dick's [Sporting Goods] and went to look for cleats and we went to look at the nice ones. And Chaney being the thrift store addict, she saw these yellow boy's football cleats on the clearance table and really wanted those. So that's what I got her," said Paul Partrich.
During a game against Greenville, the Lady Eagles were down at halftime, and at the time head coach, Jen Green was giving the halftime speech and gave the reigns to Chaney because she was going to do the best to hype up the girls and help them win.
Chaney's road to lacrosse in high school began when she was in 8th grade. At the time she was a cheerleader and cheer captain.  She desired to be the best cheerleader, going to the library and checking out videos learning how to tumble and perfecting her craft every chance she got, said her father.  In the spring of her 8th grade year, her older cousin Cameron, who played lacrosse, told her she should try out for lacrosse. At the time head coach Jeff Mirgon (now the Chapin Men's Lacrosse coach) said, "Paul she's really fast. I know you're a coach so you know speed is important." Chaney played lacrosse ever since then, starting her 2nd game her freshman year. After that second game, she was a starter since then.
Chaney continued her academic and athletic career at The University of Mount Olive in North Carolina where she embraced who she was and made herself right at home making new friends right away as if she had known the girls on the lacrosse team her whole life
Theme Wear Win
One thing about Chaney that showed her character and who she was as a person when she participated in Miss Chapin 2015. The pageant had a theme wear competition and all the girls dressed up in Palmetto dresses to show their love for the state. However, Chaney dressed up as a flood relief worker, after the devastating floods of 2015, and she won the theme wear competition.
Chaney was a thrift store addict and loved going thrifting and just making outfits out of clothes that had meaning to her. Chaney had two sets of earrings and lost one of the pairs. So what she did was kept the ones she had and still wore the mismatch earrings because she had such a style all to herself because she was stylish, when she didn't try to be stylish.
Playing Lacrosse with Chaney-from Megan vanVollenhoven
"Chaney Partrich was one of the most genuinely caring people I have ever met. I think every girl who played with her or any person that was lucky enough to be friends with her has a story about how she went out of her way to make others feel seen," said senior  Megan vanVollenhoven. Megan played on the lacrosse team as a freshman, during Chaney's senior year.
"She helped me improve as a defender on the lacrosse team.  However, through all of these circumstances, Chaney treated me with respect as a player and never let me play the "I'm just a freshman" card," vanVollenhoven said.
"She had an incredibly infectious smile and radiated positivity. She was a great role model because she showed everyone how freeing it is to be 100% authentic. One thing I remember is sitting in the stands with two other lacrosse freshmen when she was announced as the 2017 Homecoming Queen, and all three of us jumped up and just erupted with joy because she was so deserving. She embodied the Heart Beat of CHS. She had incredible school spirit, she was a stellar athlete, and she was incredibly involved in so many clubs. She was truly the people's Homecoming Queen," said vanVollenhoven. 
"The best way I can describe Chaney is as the most carefree, competitive, creative, and complex human being I've ever met. Those that know her may describe her as a "Dancing Queen" because of both her love for the song and also her blissful take on life. However, It is somewhat impossible to quantify her into any particular box because she was such a free spirit," said vanVollenhoven.  "Whether she was passionately talking about her disgust for a particular competitive lacrosse team, rocking out to the Beastie Boys, or trying to bring back socks and sandals, Chaney was being her 100% authentic self. Chaney was thoughtful and passionate. She was an incredible leader and friend. She made me feel so loved and cared for. Chaney was the epitome of generosity. She was the biggest cheerleader to all those that knew her. Chaney Partrich is an inspiration to me for what it means to be a leader and just a good human being."
Chaney Partrich's influence has been felt on anyone who knew her.  These are just some of the phrases from the teachers and friends.
"I think a lot about how kind she was, she was the salt of the earth type of person, she's a student you would want to hangout with, she loved exercising and being fit, she had enormous-positive energy, calm, cool, collected, hardest worker, she was an old hippie in a young girls body."
"There would be no conflicts if there were more Chaneys, the best way to put it is it would be a Utopia."
"Didn't have a mean bone in her body."
"If the world was full of Chaneys there would be no inequities, the world would be paradise, the world needs more Chaneys."
"Selfless, most kind, loving, positive being Gods ever made, she was the ultimate teammate on this team of life."
"Loved her family and I loved that about her, she had this uncommon bionic love."
View Comments (5)
About the Writer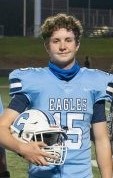 Brennan Ramsey, Editor in Chief
Brennan is in the 12th grade at Chapin High School, He plays football and enjoys hanging out with his friends. He is the editor for CSPNEagles.com.