What Album Got You Through 2020?
All of the hopes and expectations for 2020 only went downhill.
Although the year was nothing like the world thought it would be, it gave many people time to reflect and learn more about themselves. During this time of reflection, many turned to music. Music helped lift many spirits, cope with anxiety, and spread light through the darkness that was 2020. Students and staff at Chapin High School are now reflecting on 2020 by sharing what album helped them get through the year.
Mrs. Abbott, who teaches in the English department, said "Wasteland, Baby! by Hozier got me through 2020.  I was able to see the band perform live before COVID started, so listening to the album reminded me of the joy of live music performances and being near people in a way we are currently unable to do." Wasteland,Baby! is Hozier's second studio album after their self-titled album in 2014. Along with their two studio albums, they have released four EP's. Hozier went on a world tour for the album in 2019. In an interview with Apple Music about his album, Hozier said, "There was either language that seemed to focus upon drowning or the burning of things, or the ending of things."
Bella Martin, a junior, says "When We All Fall Asleep, Where Do We Go? by Billie Eillish got me through 2020 because I love Billie and her songs are amazing and personal." Her debut studio album, after her EP in 2016 called Don't Smile At Me, debuted number 1 on the Billboard Top 200 chart. She won many Grammy awards from this album including; Best song, bad guy; Best album, When We All Fall Asleep, Where Do We Go?; Best record, bad guy; Pop vocal album, When We All Fall Asleep, Where Do We Go?; new artists, Billie Eillish. In an interview with Zane Lowe for Apple Music Eillish said, "I've always had really bad night terrors and sleep paralysis, and all my dreams are lucid, so I can control them…The album isn't me saying, 'I dreamed that'—it's the feeling." 
Eleventh grader, Aislyn Jowers, says "an album that got me through 2020 is Hollywood's Bleeding by Post Malone. Post Malone was the last concert I saw before the pandemic began and I really enjoy his music." The album was released in September of 2019. Malone toured in 2020 just before the pandemic hit. He was nominated for Best pop duo/group performance and record at the 2020 Grammys with his song Sunflower. The album also won the top Rap Album Award at the Billboard Music Awards. Malone was interviewed by Zane Low for Apple Music and said, "I'm not trying to make anything massive, I'm not trying to make hit records…I want to do something weird and funky." 
When times get tough, music is always there. There are so many variations of music that go with all different kinds of emotions. It's clear that at Chapin High School music is so important for students and staff. Music brings people together. Whether you're listening to that one song that reminds you of your happiest memories, or even going to concerts to create memories. Hopefully 2021 will bring more music and more happiness.
Leave a Comment
About the Contributor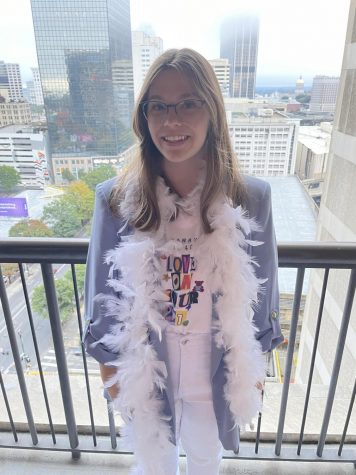 Erika London, Co-Editor in Chief
Erika London is a Senior at Chapin High School, and co-Editor in Chief for CSPN Eagles. She enjoys listening to music and going to concerts. Additionally,...