Our Back-2-Back State Champs
Hang on for a minute...we're trying to find some more stories you might like.
Chapin Men's Soccer took the victory over East Side for the 4A state championship during a torrential downpour on Friday May 12th. They're celebrating their state title for the second year in a row. These back-to-back state champs worked hard to achieve this goal, and after a long road of ring chasing, they completed their mission.
Right before playoffs started, all of the players cut their hair into mohawks, and right before the game each of them touched the concrete eagle with superstitious hopes of good luck. Apparently, these team rituals worked.
Within the first 9 minutes captain Cooper Woodham, senior, scored a goal. It wasn't long before captain Josh Corning, junior, shot the ball towards the other team's goal, and it took a deflection off of one of their players into the goal. The game finished with a score of 2-0.
When asked how the team prepared for the win, Woodham said, "We stayed committed to staying focused the whole time no matter how long the game would last or what would happen during the game."
Josh Corning said, "We worked really hard, and everyone on the team was really well behaved throughout the season, which kept everyone on board. We had a good time."
Coach Bosco has coached for 3 years here at Chapin.  This was his last game before he moves to Tennessee for a new job.
"It feels good to be coach. I was super excited. I'm glad that my last memory at Chapin is winning a state championship," said Coach Bosco. "I'm going to miss competing in the games and getting to teach and coach the individual players. To the next coach, I wish him the best of luck, and want him to know that the Chapin Alumni will always be there for support."
Chapin is proud of our boys soccer team for their 2nd state title in a row and 4th state title in the history of the program.
Photos By Big Ed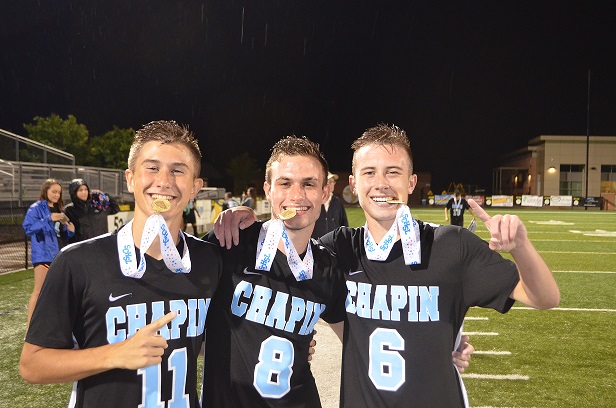 For more information see: http://www.thestate.com/sports/high-school/article150340612.html