Chapin Basketball Holds First Annual Chapin Madness
On Friday, November 22, the Chapin Varsity Basketball program hosted the first annual Chapin Madness Night. The event was created as a fundraiser for Coach Snelgrove, the Head Coach for the Chapin Boys Varsity Basketball team. Coach Snelgrove was recently diagnosed with pancreatic cancer. The event began at 7:00 pm, and admission was $2 for students and $5 for adults.
The evening consisted of multiple challenges carried out by the varsity basketball players. The first event was a skills challenge: a timed obstacle course where players had to shoot a layup, dribble through cones, bounce a basketball into a floor-standing net, shoot a three-pointer, dribble through a second set of cones, and finally, shoot a second layup.
The second event was a timed two-on-two, three-pointer challenge. Two players went head-to-head to score as many three-point shots as they could from multiple different angles within a specified time frame. The final two players were seniors Malina Washington and Maddux Harell. Washington took the victory.
The next event was a brief basketball game between the Blue and White teams, both comprised of players from the Girls and Boys Varsity Basketball teams. The White team won with a final score of 17-15.
The final event was called the Two Ball Challenge. The event consisted of four teams; one Girls Varsity player, one Boys Varsity player, and one staff member, competing to score three-pointers and half-court shots. Coach Paul Scheno and Coach Craig Fransworth won the event.
Upon the conclusion of events, Melinda Snelgrove, Coach Snelgrove's wife, went on the court to read a text message she received from Coach Snelgrove to those in attendance. The text message read: "I want to thank everyone that came tonight and to all those who contributed money for the fight that Melinda, my family, and I are going through right now. I would also like to thank Coaches Scheno, Burge, Strange, Partrich, Knopf, Wessinger, Mrs. Huyck, Elizabeth Perla, and the Eagle Club. These are some of the best friends a man could have and have all reached out to me on multiple occasions. Special thanks to our team Mom, Paula Cobb. She arranged the GoFundMe campaign, assisted with arrangements for my current trip to Houston as well as making financial donations. I especially appreciate Coach Don Kesterson and Coach Marquett Carr for carrying the load while I fight this illness. Coach Carr and his brother Daniel are like sons to me. I love each of them and their family like my own. Also to all the players in our program, you are my extended family. I love all of you. I want you to go play hard and enjoy your time together. I have the most wonderful wife in the world who is having to go through this with me. No one could ask for more. Melinda, you are the light of my life. All this being said it shows I have wonderful friends, colleagues, plus the great students at Chapin High and a very supportive family. Each of you have been great to me. However, above all, I serve an AWESOME GOD. I have no doubt that no matter what happens, good will come from this. I place my faith in the GREAT I AM!!! I thank everyone in this building this evening. May God bless every one of you here tonight! GO CHAPIN!!!"
The camaraderie and tight bonds of the two teams were evident on Friday night. Maddux Harell,  has played for Chapin Basketball for two years and says that being on a team is "a great way to meet new people and engage with different types of people. It's a really good brotherhood that we have here on the team." Harell added that the fundraiser for Coach Snelgrove was "a big team chemistry thing for us" and getting "everyone in the whole program here and all the support really means a lot to us and [Coach Snelgrove's] family."
Malina Washington has played Chapin Basketball for three years. On the relationships of the teams, she said, "It's like another family. It's like irreplaceable bonds. You can't get those types of bonds anywhere else and I love them as my family, and I'm really gonna miss playing with them next year. I'm gonna miss it a lot." Additionally, Washington said, "I like how many people came out here, supported, watched. It's fun being able to be apart of the fundraiser."
To access Coach Snelgrove's GoFundMe campaign, click here.
Leave a Comment
About the Writer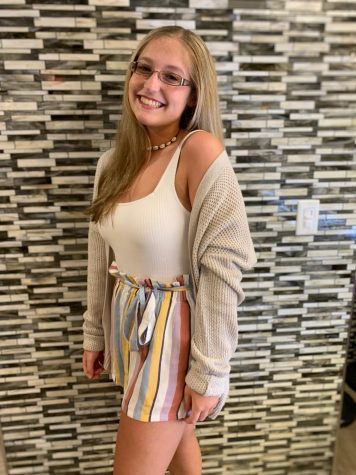 Madison Thompson, Reporter
Madison Thompson is a senior at Chapin High School, and is a Reporter for CSPN Eagles. She enjoys photography and competing in pageants. Additionally,...