How Sweet It Is!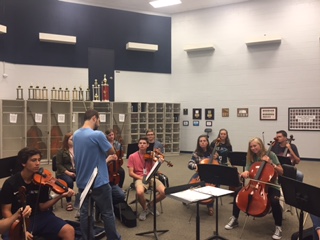 Hang on for a minute...we're trying to find some more stories you might like.
Students, in orchestra at Chapin High School, have been selling chocolate to raise money for the New York Orchestra trip in the spring. Violin player Ali Frick has been going from Chapin High School to Chapin Middle School to sell chocolate, other students are either going as close as the C.A.T.E center to as far as Beaufort to sell as much chocolate as they can.
"If I see a box I go and ask to buy some," 11th grader Sarah Wallace said in regards to buying chocolate. While 12th grade cello player Libby Cannon said, "It's fine" when asked how hard it was to sell the chocolate.
From April 26th to the 30th the Chapin High School Orchestra under the direction of Andrew Lynn will be travelling to New York city to participate in an adjudicated performance. Many of the students are fundraising for the trip by selling chocolate for $1.00 a bar. Anywhere from 35-40 students from all grades will be going.
The performance will feature music that is Grade 3 in difficulty, on a 5 level scale, as there will be 9th graders. The performance will be judged based on the whole of the Orchestra's tone, intonation, presentation, and posture. While the Orchestra will be judged, they also plan to see some of the more notable landmarks including: The Statue of Liberty, Wall Street, Times Square, The Empire State Building, a Broadway play, and Carnegie Hall.