Mock Trial State Experience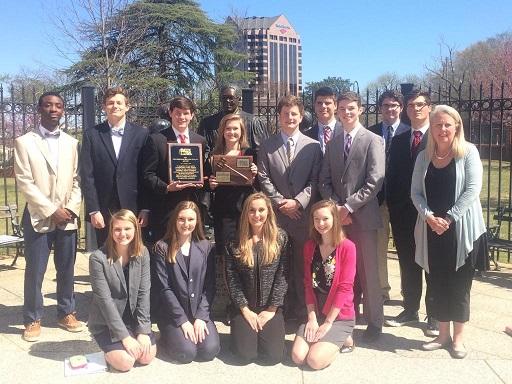 Hang on for a minute...we're trying to find some more stories you might like.
On Friday, March 10th, Mrs. Brinkley led Chapin students to the Matthew Perry Court House in Downtown Columbia to participate in a statewide Mock Trial competition. There presented a case guilty of termination, violation of public policy, intimation of emotional intention and they were able to place 8th  with an additional Professionalism and Civility Award.
Derek Hall and Chloe Fowler, seniors at CHS, both assumed the positions as Mock Trial leaders. They have participated in the club since their years as freshmen. The club has given Hall an opportunity to showcase his disputatious nature in a more professional environment while Fowler says that Mock Trial has "given [her] a chance to learn more about court and discover how to argue effectively."
Mock Trial presents students with a preview of judicial jobs and has led some students to have law related careers. Hall plans to become an attorney which would lead him to pursue a political position and his experiences in this club have helped to make a decision.
Cami Aull, a Chapin junior, also participated in Mock Trial this year and intends to be a part of the team again next year as a senior. The club has given Aull a chance to meet new people with similar interest and she is eager to take part in the trials next year.