Making Memories during the Holiday Season During Covid
December 16th, 2020-This year is unlike any other with Covid-19 all over the headlines everyday, but that won't stop the holidays from happening.
With there being travel restrictions, there are many things people will have to consider when planning to travel domestically or outside of the U.S. Traveling will increase your susceptibility to contracting the virus, but if you are planning to travel the CDC's website has a some recommended questions to ask when planning a trip. The CDC will also offer advice as to what precautions you need to take, and where you can and can't travel.
Several Chapin students said they hope to make memories with their families and friends as best as they can, while still maintaining Covid-19 safety measures. Students said that being able to make connections with family and friends, especially during this holiday season is important.
 "I will make memories this holiday season by spending time with family, friends, and loved ones," said Cason Whitman, freshman. 
"I am going to visit family and spend quality time with them due to not being able to see them very often," said Arianna Brown, sophomore.
Students also say that they know they are also taking precautions before visiting relatives.
"Well after this week is over we are planning on quarantining to the best of our ability and plan on getting tested before we see our grandparents" said Gibson Ward sophomore.
"I won't be traveling far this year, just to my grandparents house in Irmo. We have to quarantine before hand," said Ellett Ward, senior.
"I am going to join Zoom calls with my grandparents and other family members on Christmas," said Caroline Summers, uunior. "This will allow us to still make memories as a family, and it will be something to laugh about in the future since the dynamic is so weird."
Students may have  an advantage this  holiday season, especially if they are using Zoom, Facetime, or Skype to communicate with families. Students have been using Google Meet calls for almost half a year and they will know how to navigate and see their family members that won't be attending this year's festivities in person.
Contributing to this report: Garrett Rider, Emma Storey, Norah Wertz, Javiance Wideman
Leave a Comment
About the Contributor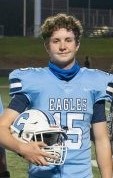 Brennan Ramsey, Editor in Chief
Brennan is in the 12th grade at Chapin High School, He plays football and enjoys hanging out with his friends. He is the editor for CSPNEagles.com.