A Reflection Of Chapin High School Volleyball Senior Night
Some of the senior traditions at Chapin High School include signing the Senior promise, the toga pep rally, Senior Will Day in the spring, and Senior Recognition Night for those who participate in sports.
Traditionally, seniors at Chapin High School are supposed to start for any and all sports on Senior Night. This tradition was also seen in the 2020-2021 season for the Chapin Girls Basketball team. This is a tradition that is held for many Chapin sports.
As of the 2020-2021 season, all of the seniors for the Chapin High School volleyball team started at the beginning of the game. Unfortunately, the tradition of seniors starting on Senior Night was not continued for this game, as the only seniors that started were libero Bella Martin and Savanna Logan.
Many fans and players were confused, shocked, and hurt that 4 of the 6 seniors sat on the bench nearly the entire 5 sets of the game.
Some families even came out of state to watch their family members play just to see them sit on the bench. Many of the seniors have been involved in the Chapin Volleyball program for many years. So it was very disappointing to them, because they had put time and effort into the program all leading up to this one night for them to showcase their achievements, but they got little or no playing time. 
Personally, as a senior for the upcoming 2021-2022 basketball season, if I was benched for my senior night I would be devastated as well. Having played since the 7th grade, I have been looking forward to senior year and senior night since I was 12 years old. Leading up to the moment where you are suppose to be showcased for everything you achieved leading up to senior year and having to sit the bench the entire game would make me devastated.
A player said she, ¨felt humiliated and unvalued by my coaches. I had been looking forward to senior night since I started playing volleyball in the 7th grade. It was supposed to be a night where my friends and family all came to watch me and my senior teammates play. It was supposed to be our one special night to be celebrated as seniors." 
This issue affected the team's sense of unity and disrupted their belief of the Chapin tradition of playing on senior night.  While there may not have been an intention to devalue players, it could have been viewed that the seniors were made to feel like they didn't need to help the team.
Although this unfortunate event happened, there can be hope for the future that the program will learn from this experience to make the coming years better for the seniors.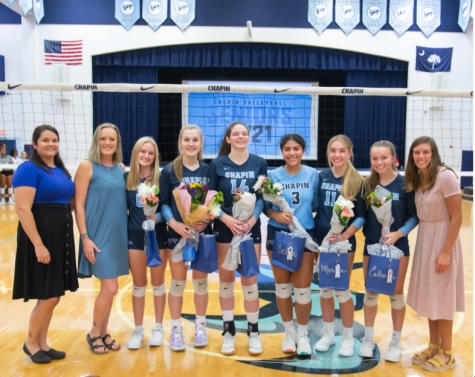 The 2021 Chapin High School Volleyball Seniors. (Go Flash Win)
Leave a Comment
About the Writer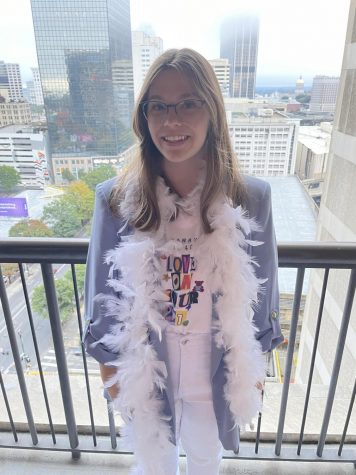 Erika London, Co-Editor in Chief
Erika London is a Senior at Chapin High School, and co-Editor in Chief for CSPN Eagles. She enjoys listening to music and going to concerts. Additionally,...